Being based in regional Victoria means we have sensible overheads. We quote competitively on fabricating and erecting structural steel for large buildings and infrastructure projects in Melbourne and regional areas.
A different kind of building firm
CPE Construction is far from just another construction / engineering firm.
In the early 2000's, concerned by what we felt was an industry wide shift towards price driven self interest, cost cutting at the expense of quality, blame shifting, and a general lack of accountability, we made a very conscious decision to move against the current… to go our own way.
We knew there had to be a better way of doing things, a more sustainable way. So we sat down and asked ourselves some hard questions. What were we really about, what motivated us? When push came to shove, were we only about the dollar, or did we care about other things? Not surprisingly, we discovered money wasn't the only thing that mattered, and that what we were chasing wasn't all that complicated.
Multinational commercial builders rely on us to produce flawless, precision-fitted steel, on time. They also use our roof plumbing team to streamline construction, save time and guarantee accountability.
Our Cobram workshop excels in technically difficult steel fabrication for architect-designed commercial work. We can:
supply structural steel for large scale infrastructure and commercial projects
erect and complete construction on-site
do structural welding and weld-testing
meet construction programs on challenging projects
co-ordinate challenging jobs
meet abrasive blasting and painting specifications
convert architectural and structural drawings into 3D models and shop drawings
Work with clients and designers to provide solutions throughout project lifecycle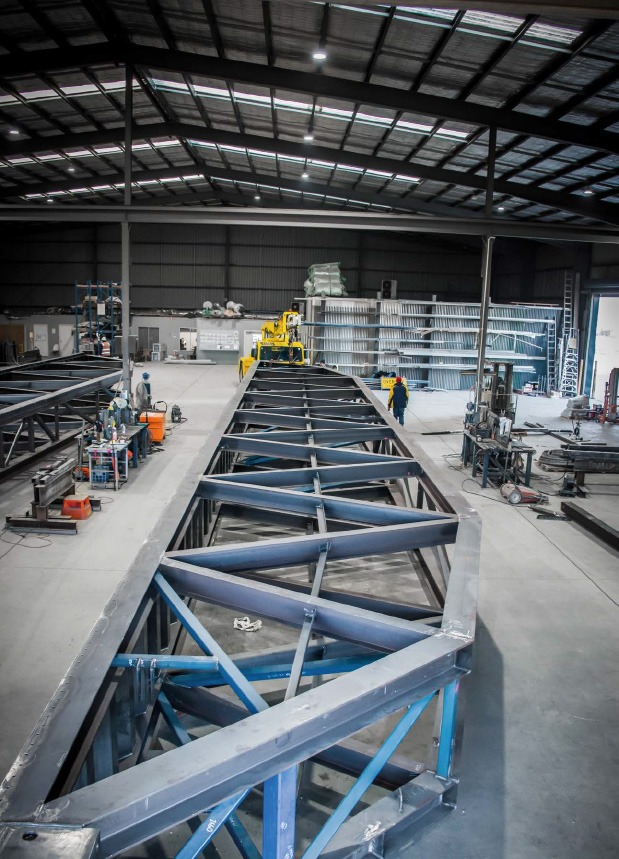 We want to do great work, on great projects, with and for great people. Pretty simple really.
If you have a question about an upcoming project or would just like to have a chat please get in touch with us.